Fast, easy and digital car loan.
If you find a deal,
you've got #HemenCredin!
Fast
Easy
Digital
The calculator is only for information purposes.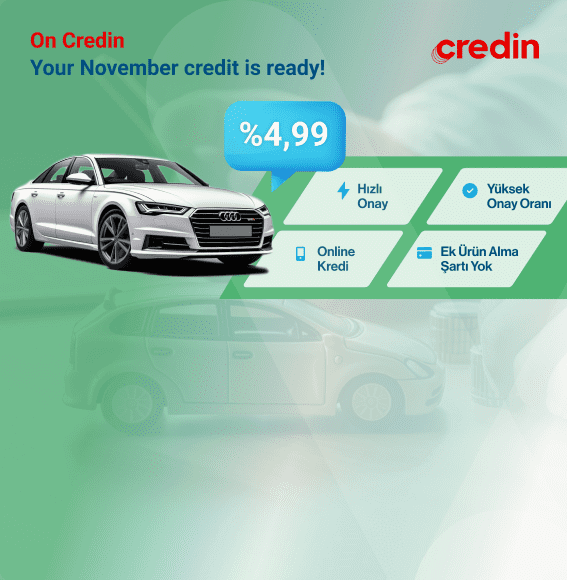 For the first time in Turkey!
You may replace your car with VavaCars while paying back your loan on Credin!
If you see a deal, you've got #HemenCredin!
How to get a loan from Credin?
Catch the opportunity for getting a digital used car loan on Credin. Choose your car on VavaCars, click on the loans option, and your #HemenCredin will be ready in minutes. Your pre-approved loan amount will be deposited to your VavaCars account right away, following identity confirmation and contract approval. When the amount you need with #HemenCredin deposited into VavaCars account, your car will be ready for delivery.
Why Credin?
Trust
We conduct all the processes with our digital partners for you, and provide the most reliable service.
Fast and Easy
#HemenCredin is ready to use as soon as you choose your vehicle from VavaCars!
Digital
Your loan application is digital, with no need to go to a dealer or bank.
Partnerships

We offer #HemenCredin for you to get the car you dream of in the rich car portfolio of VavaCars.

With Credin, you can benefit from Petrol Ofisi's fuel points opportunities and have Petrol Ofisi privileges with up-to-date campaigns!